THE SHIFT HAMMER V3 STAINLESS - SHIFT IMPROVING SHORT THOW SHIFT PLATE KIT -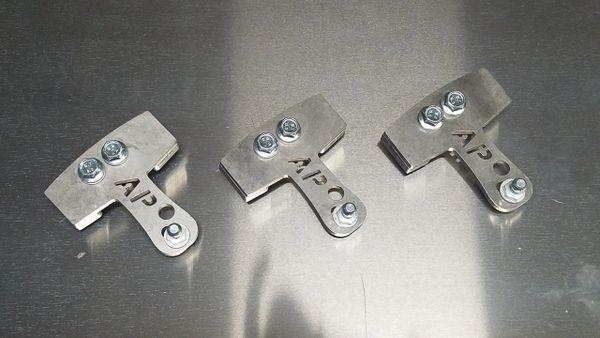 THE SHIFT HAMMER V3 STAINLESS - SHIFT IMPROVING SHORT THOW SHIFT PLATE KIT -
Shift hammer V3 is HERE


 -  We have re-designed the shift hammer.  The version we were selling is my 3rd design & it really does work amazing!   We went back to the original V1 Design, but added a few more grams of weight and now make the plates from 304 stainless steel for  ultimate durability and corrosion resistance. 

IN STOCK

Long overdue to bring this back to the market.
This is the Shift hammer designed by Turbo_Steve. 

This plate is not just a shift throw reducer, it also is a shift improving plate. 

THE SHIFT HAMMER
- Reduces forward / backwards shift throw anywhere from 20%-33% depending on how you adjust it. 

- Is self weighted and the weight plates are stackable to fine tune the perfect shift feel.
- Is in our expert opinion the best balanced plate on the market for your mazdaspeed 3 & 6
- Fits with all tmic and all fmic* setups that work with the oem weight(and even some that don't, please check for clearance) .
- Gives you a firm, but positive shift feel (feels more like a rwd transmission and not a sloppy cable setup)
- Greatly Improves shift from 2-3 & improves all shifting for most drivers.
- Is made in the USA.
- All plates are 304 stainless steel.
- Includes all hardware for installation.

* Will fit all applications that use the factory shift weight.  It can also fit applications that require removal of the factory weight, but fitment is not guaranteed on all applications(you can always return). Some inter cooler kits have lots of slop in pipe routing and may need you to re-position the piping near the throttle body for clearance(cx racing kit is common).   The hammer weight does not extend as far as the stock weight and we have had this work on cars where the stock weight won't fit.   We have yet to have a customer unable to run one of our plates.

For 07 - 09 + 10 - 13 Mazdaspeed 3 & 06 + 07 Mazdaspeed 6.

A little tech info
The total weight of the shift hammer is offset differently than the factory shift weight in order to provide better & more accurate shift.  The 2-3 shift is not particularly great on the mazdaspeed's and some short shift plates, while they do shorten the shift, they do not improve it.  Other plates / weight combos can actually make the 2-3 shift worse.   


Don't settle for just a short shift plate.  Our plate setup is a shift improver!
This plate is the perfect addition to short throw shifters as well!

Kit will include

1 x Top plate
1 x weight plate with holes
1 x weight plate threaded

4 x Washers
1 x Ball stud
1 x Nut for ball stud
2 x metric bolts for plate install