[AP]Mazdaspeed 3 & 6 MICRO ROTATED COIL PACK COVER for use w / fmic Conversion - WIRE TUCK REQUIRED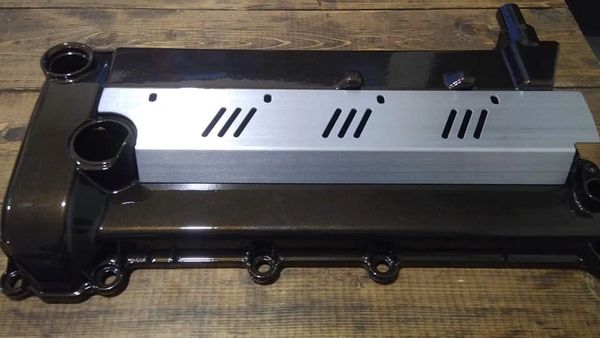 [AP]Mazdaspeed 3 & 6 MICRO ROTATED COIL PACK COVER for use w / fmic Conversion - WIRE TUCK REQUIRED
NEW BATCH LAUNCH -  OUR FIRST SMALL BATCH HAS BEEN OUT SINCE 2018 - DUE TO CONSTANT REQUESTS WE HAVE PERMANENTLY ADDED THIS KIT TO OUR OFFERINGS. 
We only offer these in covers in Raw Aluminum at this time.  Easy to self paint or have professionally powder coated.
Turbo_Steve's engine covers -
This is our micro rotated coil pack engine cover.

This cover will require a wire tuck / wire harness extension.

The kit includes

1 x Rotated Cover  (fits all ms3 & ms6 with fmic & wire harness extension / tuck)

1 x hardware kit w/all needed installation hardware.
New optional colored beauty washer kit -  includes upgraded screws and washers in your choice of color.  (If selected will include upgrade for HPFP and Coil Pack cover only)

FEATURES
5052 Aluminum - Laser Cut and CNC bent Cover
6061 Aluminum Coil Stabilizer brackets
Stainless and aluminum hardware
3M High temp silicone insulation pads.
Easy install 
No separate bracket with sharp edges to fray wires, no rattles and false knock, no failed coil packs from over heating.
Coil packs will be seated more than oem configuration.
Simplest and most cost effective kit on the market.



Our Kit uses two stabilizer brackets to keep the coil pack from rotating.   The coil pack cover gets silicone bumper pads applied after painting or coating which holds the coil packs in place after the cover is installed.  Access to spark plugs is easy, remove 4 cover screws and the coil packs pop out in pairs without any additional hardware removal.   Our cover is only offered vented as we have tested and proven that on  a compact cover such as this, the coil packs are subjected to an additional 30 degrees vs any cover without vents.



Only available in Raw Aluminum. 

Very easy to paint to your desired color or to have powder coated.
 

Don't forget to add on a HPFP and Intake Manifold cover.





All kits will include aluminum standoffs and Stainless steel bolts and washers for a trouble free installation that will look great for years to come.

Made from high quality 5052 aluminum so they will never rust.


Big thanks to Steven, Rodney and Quinton for long term testing and images.

#Raw aluminum covers are sold ready to paint or powder coat.  Covers will have markings from the manufacturing process.  If you plan to run these as raw aluminum you can polish them with 3m scotch brite to remove imperfections.

Reviews