[AP] HARD Accessory Mount for phone / accessport. GEN 1 MAZDASPEED 3 / 04-09 Mazda 3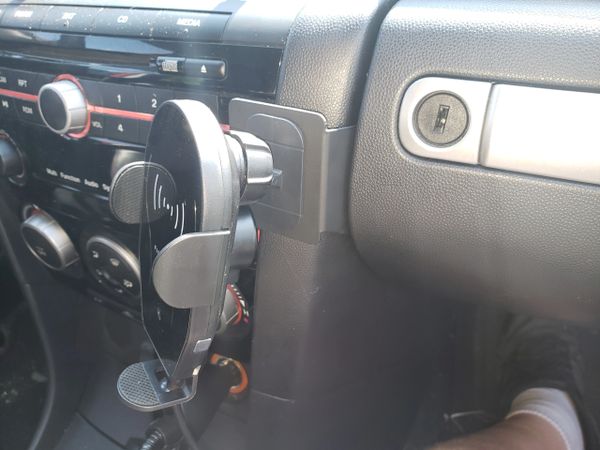 [AP] HARD Accessory Mount for phone / accessport. GEN 1 MAZDASPEED 3 / 04-09 Mazda 3
Mazdaspeed 3 Gen 1  07-09 / Mazda 3 04-09 Hard Accessory Mount
The kit does not include any phone or accessory mount and the phone mount in the photos is just for illustration purposes - You are purchasing the metal bracket with all needed installation hardware*

For mounting phone holders, Access port tuners and other accessories.
The Mazda dashboard does not provide a good flat / smooth mounting point for self adhesive or screw on accessory mounts.
The Adapted Performance HAM allows you to mount your devices using either self adhesive or screw on mounts without damaging the exposed face of the dashboard.
Perfect for self sick accessories or can be drilled for bolt on mounts.  Powder Coated in Satin Black for durability.  Includes a felt pad to be used between the back of the mount and the dash for a vibration free install. 
Will require 2 screws to be installed inside of the glove compartment opening.  The screws will make their own hole - Do not over tighten - only need to tighten until the mount is secure.  These holes will be hidden behind the glove box door.
Make sure the felt pad is stuck on the back of the mount and firm against the dash board before installing the screws.  After you position the mount and know the approximate height, the red backing comes of the double stick tape.  The tape will help keep the mount in place during screw installation and keep the mount from moving.




Legal*

Adapted performance is not responsible for improper installation of this mount.  We are also not responsible for violations of any laws or ordinances that this accessory may violate.  Know the law, use your device responsibly - This device is not intended to be used to view any mobile or electronic device while operating a motor vehicle.  Please follow manufacturer instructions from any accessory or device that you mount to this bracket.  Please be aware that most phone mounts can cause your cell phone or device to become a projectile in the event of an accident.  By purchasing this device you understand and agree that Adapted Performance is not liable for damage or injury whatsoever for any accident or incident involving this accessory.