[AP] Gen 1 Mazdaspeed 3 07-09 & Mazda 3 Hatchback 04-09 Rear Window Track Vents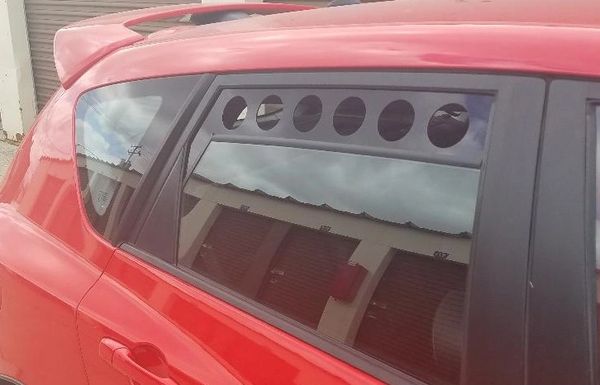 [AP] Gen 1 Mazdaspeed 3 07-09 & Mazda 3 Hatchback 04-09 Rear Window Track Vents
PRE-ORDER FROM AUGUST BATCH - WILL BE READY TO SHIP BY 08/27
Brand New Item from Adapted Performance. 
Track vents allow air flow / ventilation into the car for street or competition driving.  Many race events require windows to be closed during competition.

These also provide an aggressive appearance for you Speed 3

These also allow you to get rear window ventilation without the annoying buffeting noise from simply cracking the rear window a couple of inches. 

Made in USA -  

SOLD AS A PAIR -

Made from a plastic that is 9 times stronger than glass **-
Laser cut for precision -

Same thickness as the Window so it fits in the channel properly -

Includes an H channel for secure attachment to the rear window -

Takes 10 seconds to remove or install -

Available in a Dark semi transparent to match most darker window tints (see photo from inside car) -  
Fitment for all 07-09 Speed 3 & all 04-09 Mazda 3 Hatchback -
Install is simple
* This item is intended for off road / competition use only. This item may not be legal for use on public roadways / highways -  This item may not be permitted by all racing events, tracks, clubs or groups - check with your sanctioning body about use of window vents.   Adapted Performance is not responsible for any laws, rules or regulations broken by using this product.  Adapted performance assumes no liability for any damage or incident that may be caused by, or by using this product. 

**Will allow 9 times more flex than glass before failing. Withstands 9 x more compression load and more impact resistant.

Reviews