[AP] THROTTLE BODY TEFLON TIG - Thermal Throttle Body Insulating Gasket for mazdaspeed 2.3 mzr / DISI engine - .060 PTFE Mecchanical Grade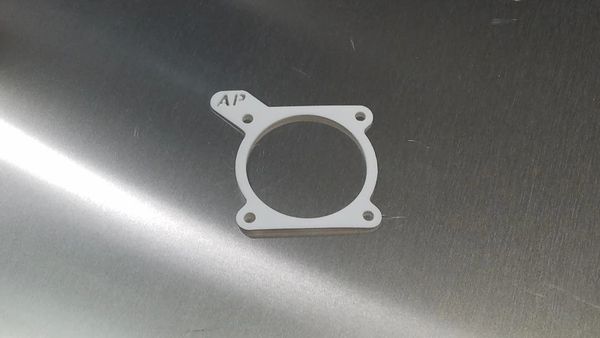 [AP] THROTTLE BODY TEFLON TIG - Thermal Throttle Body Insulating Gasket for mazdaspeed 2.3 mzr / DISI engine - .060 PTFE Mecchanical Grade


AP THROTTLE BODY TEFLON TIG - Thermal Insulating Throttle Body Gasket for mazdaspeed 2.3 mzr / DISI engine -

.060 Mechanical Grade PTFE
We have developed the best thermal throttle body gaskets for the mazdaspeed DISI engines.
The Teflon tig tb Gasket is oversized to work with stock throttle bodies and manifolds as well as custom configurations up to 68mm.
Works with any Mazdaspeed 3 / 6 / cx-7 intake manifold that uses the stock throttle body bolt pattern. 

We do not include a throttle body coolant hose bypass, because this can pose a big safety risk for those who drive their car all year round.  The oem throttle body has coolant passages to purposely heat the throttle body to prevent sticking.  We have found that just by running our gasket you end up preventing the majority of the heat that the throttle body holds from passing to the intake manifold.  Why run a thermal gasket on the throttle body if all you want to do is get the heat source out.  (The logic here is Coolant bypass + stock gasket is = no coolant bypass and thermal gasket)  Bypass the coolant to the tb at your own risk.

Lifetime Warranty against leaks - We will replace for free if it fails.

Owning a direct injected motor, it is inevitable that you will be removing your intake manifold for periodic valve cleanings.  This is the perfect time to upgrade the intake manifold gasket to our thermal insulating gasket and drastically cut down on the heat that transfers between the cylinder head and intake manifold.  Cooler air = more power & longer engine life. 



Reviews