[AP] Teflon TIG - Thermal intake manifold gasket for mazdaspeed 2.3 mzr / DISI engine - PTFE .060 Mechanical Grade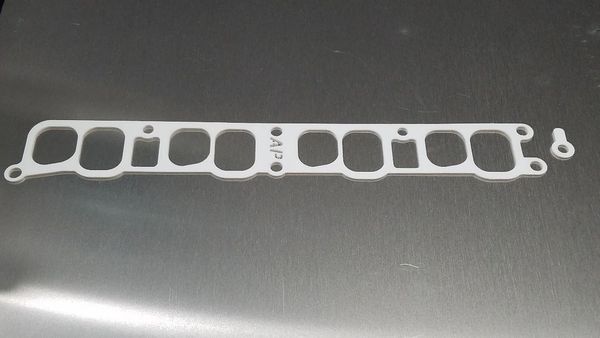 [AP] Teflon TIG - Thermal intake manifold gasket for mazdaspeed 2.3 mzr / DISI engine - PTFE .060 Mechanical Grade
A

P Teflon TIG - Thermal intake gasket for mazdaspeed 2.3 mzr / DISI engine - 
PTFE .060 Mechanical Grade
FOR USE WITH STOCK OR PORTED STOCK INTAKE MANIFOLDS ONLY
NOT FOR USE WITH SINGLE RUNNER APPLICATIONS



We have developed the best thermal intake manifold gaskets for the mazdaspeed DISI engines.
After searching for an alternative material to offer lower cost - high quality intake gaskets we have settled on a high quality Mechanical grade ptfe in a .060 thickness.

These gaskets will outperform the other ptfe gaskets on the market in many ways. 

- Port matched better to the head than all the others we have seen.

- Twice as thick as the competition which allows a better seal and better insulation.
- Laser cut and made in USA
- Lifetime no leak guarantee - if you have a failure we will replace the gasket free of charge*
- Includes a washer with a tab to space out the lower intake manifold mounting bolt. 
  (the tab makes installing the spacer much easier)
- Optional Throttle Body Gasket at a discount

Owning a direct injected motor, it is inevitable that you will be removing your intake manifold for periodic valve cleanings.  This is the perfect time to upgrade the intake manifold gasket to our thermal insulating gasket and drastically cut down on the heat that transfers between the cylinder head and intake manifold.  Cooler air = more power & longer engine life. 

*We will ship a replacement gasket free of charge if a gasket is deemed to have failed while using an oem intake manifold  - High quality photos of both sides of the gasket and of the head and intake flange may be required to honor a warranty claim - Our warranty only applies to using our gasket on a stock intake manifold (porting is allowed but if the leak is due to your manifold / head being ported beyond the shape of our gasket, we may not honor the warranty.  We will under no circumstances reimburse for Labor.



Reviews