[AP] - Primary EGR DELETE KIT - MAZDASPEED 3 - 6 & Mazda CX-7 - BASIC EGR DELETE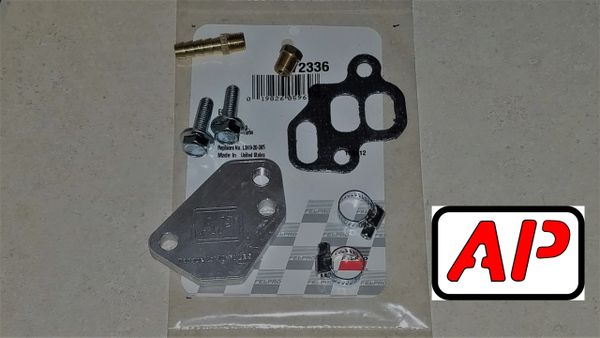 [AP] - Primary EGR DELETE KIT - MAZDASPEED 3 - 6 & Mazda CX-7 - BASIC EGR DELETE
THESE ARE AVAILABLE TO ORDER AGAIN - WILL SHIP ON 9/15/21

California residents - This item is not CARB Approved - We can not ship this item to California.  If you order this item to ship to a California address we will cancel and refund your order.
THIS KIT IS SOLD FOR OFF ROAD - RACING PURPOSES ONLY - DO NOT PURCHASE AND INSTALL THIS IF INSTALLATION WILL VIOLATE ANY LOCAL OR FEDERAL LAWS - ADAPTED PERFORMANCE ASSUMES NO LIABILITY FOR INSTALLATION OR USE OF THIS ITEM



This is a new update to our Basic EGR Delete kit. The billet plates are no longer water jet cut and surface ground.  They are now fully cnc milled.   We call our kits Basic because they are exactly what an egr kit should be, BASIC.
This is our Primary EGR Delete kit.  This kit will allow you to remove the egr valve on all mazdaspeed 3's & 6's and all turbo mazda cx-7's.  Removal of the EGR system will prevent exhaust gas & carbon from entering your intake manifold & contaminating your valves.  Keeping the intake tract clean will help prevent engine killing detonation.  Also removing the valve frees up space for big turbo setups. 

This is the most complete kit on the market. 

The plate:  Fully cnc milled Half inch thick 6061 aluminum. 

The accessories:  We include bolts with integrated anti vibration locking heads, brass plug and coolant fitting, 1 hose clamp and a gasket. 

We also give you the option to add on a silicone hose kit to replace the stock coolant hose. (kit includes cut to fit hose and 2 clamps)

The stock hose can be reused but must be removed from the turbo and flipped so that the end that was on the turbo now goes to the egr.  The stock hose is thin and short.  It works but you won't be able to fully seat it on the hose barb for the egr delete.  This is the same as with any egr delete kit.  Add on our extended egr hose kit for only $6 & have a thicker, better full length hose.  

You will need teflon thread sealing tape for installation. 

Reviews