[AP] Billet Aluminum Mazdaspeed 3 & 6 Power Steering reservoir cap. (Fits many Mazda Models with oem twist cap)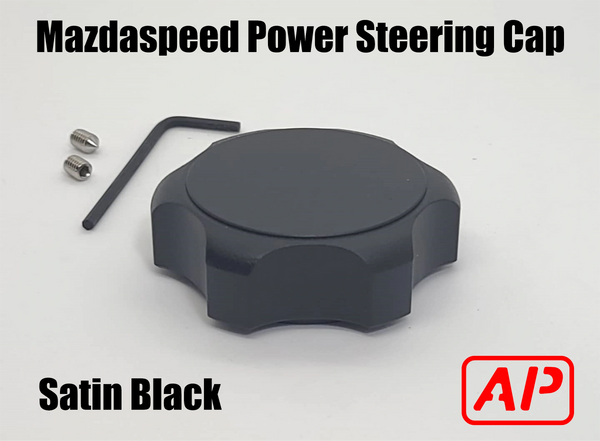 [AP] Billet Aluminum Mazdaspeed 3 & 6 Power Steering reservoir cap. (Fits many Mazda Models with oem twist cap)
USE DROP DOWN TO SELECT COLOR OR BATCH

WE WILL HAVE MORE CAPS IN ABOUT 10 DAYS IF BATCH 1 IS SOLD OUT, YOU CAN PRE ORDER FROM BATCH 2

A new offering from Adapted Performance.
[AP] Billet Power Steering cap cover kit.
Fitment for Mazdaspeed / Mazda vehicles with OEM plastic twist caps. (see photos for reference)
++ Fitment known for All Mazdaspeed 3 and Most Mazdaspeed 6 with factory plastic twist cap as pictured.
The OEM Mazda cap is a self venting design.  We felt it best to design a decorative cap that simply covered the OEM cap as to not mess with the venting.  
Our cap is a high quality billet aluminum cap that will attach securely to the factory cap using 2 provided set screws.  Once installed onto the factory cap, this will function as any twist cap for opening and closing the power steering reservoir. 
Features
CNC machined out of 6061 aluminum
Designed to mimic the oem Mazdaspeed oil cap
Powder coated finishes for durability
Stainless hardware
Installation tool included

Choice of 2 colors at launch
*Raw aluminum Will be available to order on the next batch 10/21/21. Other color options will be coming soon.


++Fitment only for oem plastic twist caps.  Fitment is not confirmed or guaranteed with aftermarket replacement caps.  See photos for measurements to confirm prior to ordering.
May not fit vehicles with aftermarket power steering reservoirs.  You can check for fitment and proper clearance for any application using measurements provided in the photos.

Reviews