AP "Basic" Mazdaspeed Valve Cover Dress Up Hardware kit - Beauty Washers and Stainless Screws. Speed 3 & 6 All Years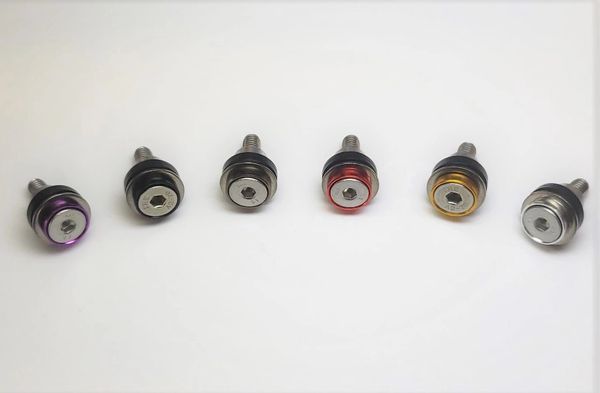 AP "Basic" Mazdaspeed Valve Cover Dress Up Hardware kit - Beauty Washers and Stainless Screws. Speed 3 & 6 All Years
New Release from Adapted Performance
    Valve cover dress up hardware is not a new concept in the automotive world.  It's an easy decision to upgrade when the factory hardware tends to corrode and rust.  Mazda used a complex fastener system which is not only prone to corrosion, it is also expensive to replace.  OEM hardware costs over $140 to replace.

    I did a small batch of these hardware kits last fall, mainly to piece together something for my personal vehicle.  I was able to come up with a great kit using top quality hardware and at a volume that allowed me to sell a kit for an incredible price.  Word got out and I have had requests for more.   Here is our newest offering.

    We have assembled a simple - Some would even say "basic" kit to replace and upgrade your Valve cover hardware for less than 1/3 the cost of oem.
Just because we call it "basic" does not mean it is of lesser quality. 
Our kit features enough hardware to replace all 14 Bolts on the Valve Cover.

Low profile anodized 6061 aluminum beauty washers. * 

High Strength Stainless Steel Low profile flat socket head cap screws .
Oil Resistant rubber grommets that are the correct thickness for the application.
Stainless Steel Washers.
6061 Aluminum Stand offs to prevent over torquing the hardware and damaging your cover.


The design of our low profile washer was intended as a universal option that will be integrated into our engine cover line up very soon. 
Batch quantity will be limited for this first run but we have at least 10 of each color available at the time of product launch. 
Currently working on production of more beauty washers and should have replenishment within the next 21 days.
Look for matching hardware upgrade kits to allow install on your Adapted Performance Engine covers that will release before Sept 21.